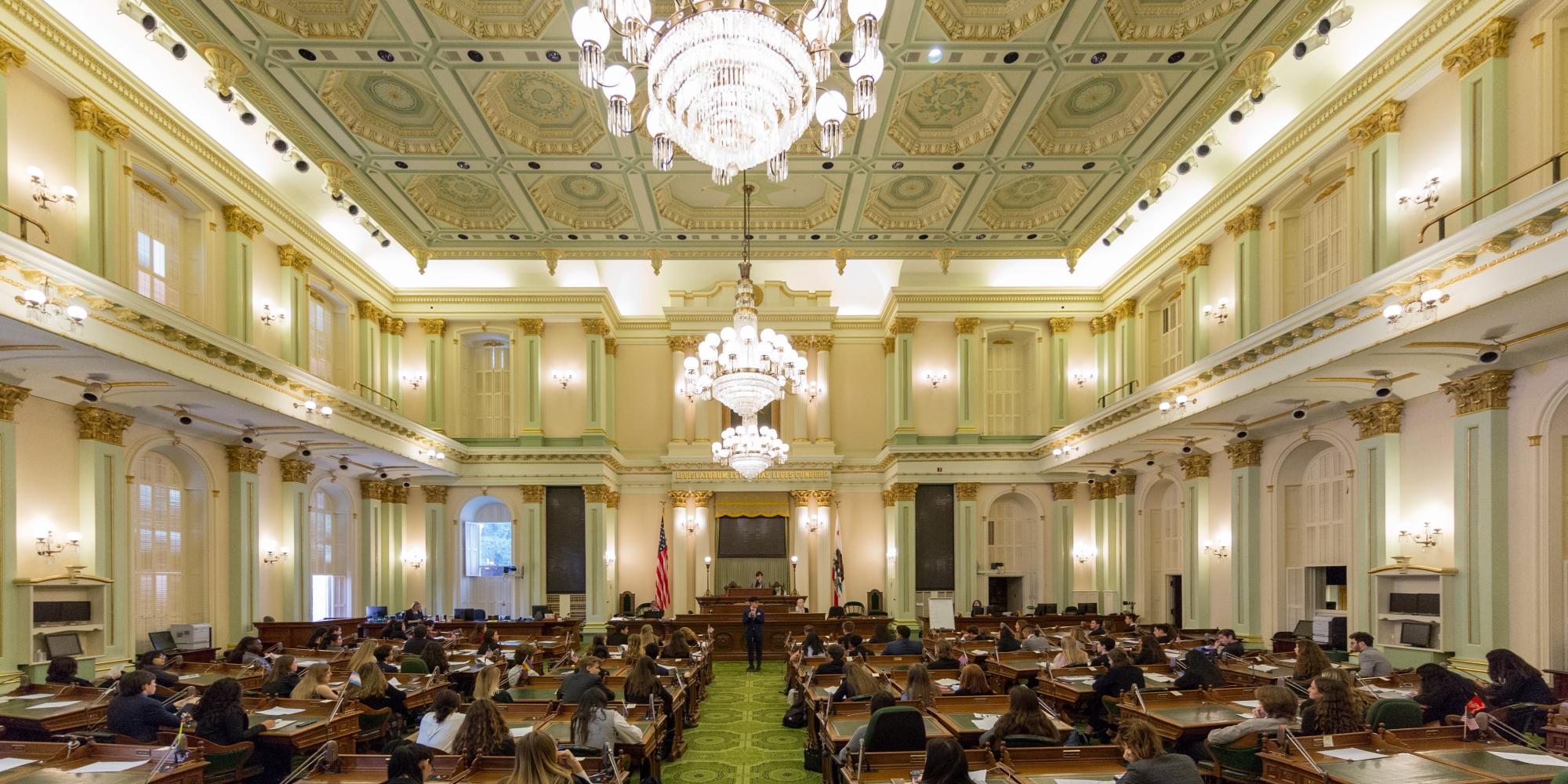 Model Legislature & Court (MLC)
76th Model Legislature & Court
For High School Students
For over 75 years, California YMCA Youth & Government has provided high school youth throughout California an experiential learning program by modeling California's legislature and courts. The program offers teen youth participants from around the state the opportunity to collaborate with others, make new friends, and build skills such as critical thinking, persuasive public speaking, writing and research. Youth & Government is rooted in the YMCA's core values of caring, honesty, respect, and responsibility and is a platform for social responsibility, servant leadership and personal development.  We strive to offer a program where everyone feels a sense of belonging and that we help to support the spirit, mind and body of every individual.
Our goal is to nurture the next generation of civically engaged Californians so that they recognize the importance of:
Civic Knowledge: They understand the structure, function, and procedures of the California Legislature, including bill development.
Civic Awareness: They can identify the major issues facing their communities.
Civic Action: They are equipped with the tools they'll need to make change in their community and can identify the importance of mutual respect, personal responsibility, and active listening in group settings.
The Model Legislature & Court brings together more than 1,300 youth participants representing over 60 delegations across California. Delegates will convene on a weekly basis at local delegation meetings. The program will include in-person events in November and February that allow participants the opportunity to put their training into action as they assume their given roles. Legislation is debated and court cases are decided, as students apply skills they have gained in the program.
Our delegate driven program includes many opportunities for teens to experience true leadership.  Our program is led by our Youth Governor, Secretary of State, and Chief Justice with support and guidance from our more than 100 dedicated volunteers. 
This year's Youth Governor, Nicholas Johnson, comes to us from the Gardena-Carson YMCA delegation. Nicholas will be a senior this year at Harbor Teacher Preparation Academy.  He hopes to grow the program's numbers, and further express to the youth the importance of being a civically engaged citizen.  In addition to being our 76th Youth Governor, he participates in student government at his school, and has been doing so ever since he was in the third grade.  He is an avid fan of both videogames and basketball, and is looking forward to seeing what the next year holds for him and his fellow delegates.
Our Secretary of State for this year is Matty Gualeni.  Matty joins us as a member of the Palos Verdes branch of the Ann & Steve Hinchliffe San Pedro and Peninsula YMCA delegation.  Matty is going to be a Senior at Palos Verdes Peninsula High School in the fall. He plans on continuing to push the importance of mental health awareness and civic engagement. Outside of Y&G, Matty loves playing water polo and basketball. Matty also enjoys running a nonprofit organization called Challenger Basketball, which aims to bring joy to people with special needs through teaching them basketball.
Our Chief Justice this year is Emi Sakamoto from the Culver Palms Family YMCA Delegation. Emi is a senior at Culver City High School. She hopes to sow the seeds of youth engagement in social justice by reimagining the role of Chief Justice. In her free time, she immerses herself in poetry to challenge the laws of literature and society. Otherwise, she is found in the garden where she draws inspiration to advocate for racial, gender, and environmental justice.
For information about registration or help finding your local delegation, please email Lisa Daddario, Associate Executive Director, at LisaDaddario@ymcaLA.org.  For more program information, please contact Ali Sheaffer, Associate Executive Director, AliSheaffer@ymcaLA.org.
Marketing Materials