Get ready to join thousands of Ys from across the country in celebration of the 31st Anniversary of Healthy Kids Day® (HKD), on April 22, 2023!
Healthy Kids Day® is the Y's national initiative to improve the health and wellbeing of kids and families. For over 30 years, the YMCA of Metropolitan Los Angeles and our communities have hosted free community events aimed to inspire kids and families to keep their minds and bodies active throughout the summer months and beyond. This year will be no different as we highlight how the Y helps build healthy, resilient kids through physical activity, nutritious foods, learning opportunities, social-emotional learning, health & well-being and more.
As a leading nonprofit strengthening community through healthy living, the Y holds its annual Healthy Kids Day® to teach healthy habits to families and kids while inspiring a lifetime love of physical activity. At a time when one in three children in the United States are overweight or obese (according to the Centers for Disease Control and Prevention), developing healthier habits that include increased physical activity is more important than ever. YMCA Healthy Kids Day® brings families and communities together to celebrate healthy living with a free, fun filled day of interactive games, family activity, community resources, giveaways and more.
The YMCA of Metropolitan Los Angeles's Healthy Kids Day® is a community-based event that celebrates making fitness fun and introduces kids and families to an array of YMCA programs and community resources that encourage them to stay active, connected and healthy.
In 2022, the YMCA of Metropolitan Los Angeles celebrated Healthy Kids Day® in a BIG WAY. For the first time ever, we unified the collective community impact of all 26 of our YMCA branches and held one large, centralized Healthy Kids Day® event at the Los Angeles Memorial Coliseum. This year, we are excited to announce that we will be returning the Los Angeles Memorial Coliseum for another amazing Day of PLAY for LA! Healthy Kids Day® is a free event, open to every member of the community. Join us for a #DayOfPlayForLA!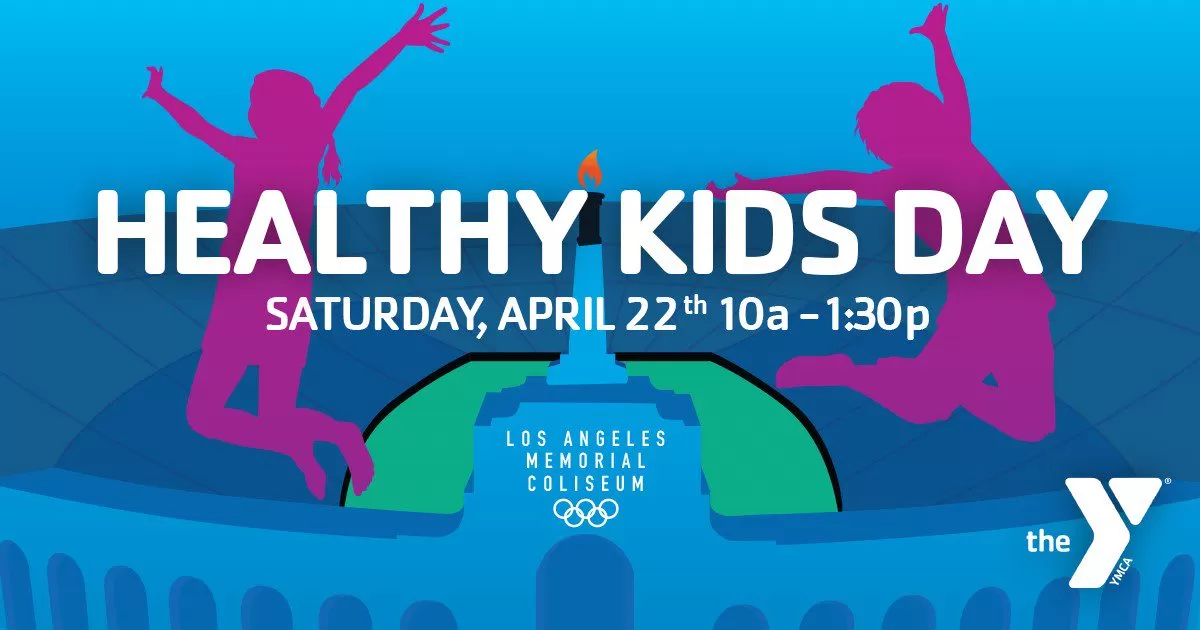 Here in Los Angeles, Healthy Kids Day will be held at the Los Angeles Memorial Coliseum on Saturday, April 22, from 10:00am-1:00pm.
The Los Angeles Clippers, Los Angeles Galaxy, and Los Angeles Kings will all be hosting interactive sports clinics. There will be a DJ, live music, a gaga pit, rock climbing, digital graffiti wall, STEAM activities, archery, photo booths, teen zone, family fitness, lawn games, interactive inflatable games, and so much more.  
There is no cost to attend the Healthy Kids Day event, but please note that parking at the LA Memorial Coliseum lot is $18 per vehicle.
Please note that the LA Memorial Coliseum has a clear bag policy. All bags brought into the venue must be transparent
General Question: Contact Chris at ChristopherJefferson@ymcaLA.org
Sponsors/Donors: Contact Mario at MarioValenzuela@ymcaLA.org